WHO IS AN F-SPORT LEXUS BEST SUITED FOR?
WHO IS AN F-SPORT LEXUS BEST SUITED FOR?
Posted on July 14, 2022
If you've been shopping through the Lexus line-up, undoubtedly you have discovered the term F SPORT. Certain vehicles have the title but what does F-SPORT mean and what makes it worth knowing about? Allow us to explore this passionate element of the Lexus brand and what it means to be an F-SPORT OWNER.
THE 'F' IN 'F-SPORT'
Japan has an iconic racetrack called the Fuji International Speedway. Only the vehicles that push the boundaries of performance and that connect the driver seamlessly to every second of the moment race at the Fuji International Speedway.
The Lexus F SPORT element was named after this track — designed to fuel a passion in owners by equipping them with the best in technology and performance-inspired features so that every moment behind the wheel feels as exhilarating as if you were on the racetrack.
F SPORT models are also made with a specific design process by Lexus engineers. They follow a unique path of development and each design decision is made with performance in mind.
F SPORT PACKAGES
If performance appeals to you but you have your eyes on a specific Lexus model, have no fear. F SPORT trim levels are available on the entire lineup of Lexus cars. However, F SPORT packages differ depending on the model you choose.
Options include everything from rear spoilers, paddle shifters, and leather seats to things like brake callipers, rotors and pads all designed to give you the most exhilarating feeling behind the wheel of your Lexus. Depending on the package, you will find an array of different features built to elevate your Lexus.
If you have your eyes on the 2022 ES 250 AWD F SPORT, find exclusive features like 19" alloy wheels, 3-spoke sport steering wheel and sport seating, along with aluminum interior trim, and a unique grille with satin black surround.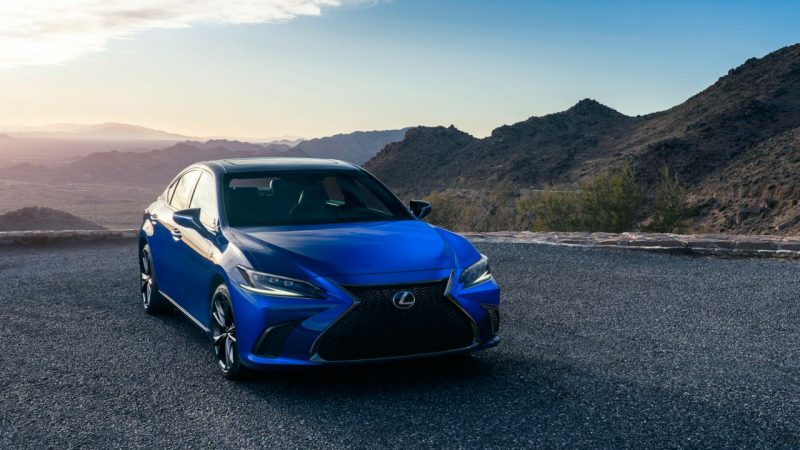 If you have been shopping the 2022 Lexus IS F SPORT, enjoy a whole host of upgrades from the available carbon-fibre rear spoiler, to a race-inspired cockpit to features like an F SPORT  accelerator pedal, brake pedal, footrest, and combination meter.
HOW MANY WAYS CAN F-SPORT BE REPRESENTED?
You can join the F-SPORT club in three different ways.
Option 1: Buy a specific model with an F SPORT package. You can purchase this on a Lexus IS, Lexus RC, Lexus ES, Lexus LS, Lexus UXh, Lexus NX, Lexus RX, and Lexus LX.
Option 2: Buy a stand alone F SPORT model: the Lexus LFA or Lexus IS F.
Option 3: Add F SPORT performance optimization to your drive experience is by adding F SPORT accessories to your existing Lexus model. (You can do that through our Lexus Parts Department Here.)
WHO IS AN F-SPORT LEXUS BEST SUITED FOR?
If performance, agility, handling and overall driving experience are your absolute top priorities in your next Lexus, then an F SPORT model is right for you. F SPORT models not only deliver an exhilarating feeling of electricity behind the wheel, but they also look sportier than other Lexus models.
Thanks to things like special front fascias and grilles, bigger wheels and a whole host of interior upgrades and F SPORT badging elements, you look track-ready as well as feel like it.
If you are interested in learning more about F SPORT models or have a question in mind, reach out to our team at Lexus South Pointe on the south side of Edmonton. We pride ourselves on being the premier Lexus dealership in Edmonton, delivering exceptional service and an unparalleled experience in every department.