PREMIER EDMONTON CAR DETAILING AND CAR PROTECTIVE COATINGS TEAM
PREMIER EDMONTON CAR DETAILING AND CAR PROTECTIVE COATINGS TEAM
Posted on January 24, 2022
Lexus South Pointe is your premier car detailing Edmonton location. Not only do we have a highly skilled team of auto detail professionals who specialize in exterior and interior car cleaning, we use the gold standard in ceramic coatings. That means we can keep your vehicle looking as good as the day you bought it — and help protect it.
WHY REGULAR DETAILING IS BETTER THAN JUST WASHING YOUR CAR
One of the biggest reasons car owners get regular details is not just for the luxury of a freshly cleaned vehicle every few months — although that doesn't hurt. Regularly detailing your vehicle can actually help protect it.
Even the most committed drivers who wash and clean their vehicle every week eventually start to see the effects that wear-and-tear can have.
The paint starts to dull and fade from regular sun exposure. Scratches and chips begin to appear. Eventually, despite your best efforts, your car shows signs of aging quicker than you expected.
That's because everything in the environment poses a threat to the exterior of your car. Mud, sand, ice, grime and dust all cling to your vehicle and eventually leave their mark. Regular soap and water just isn't powerful enough to prevent the damage these environmental irritants ultimately cause.
You need a professional auto detailing service that uses protective coating products in their process. These protective coatings work to restore the original shine of your vehicle's paint while providing a protective layer that blocks potential scratching, stains and damage.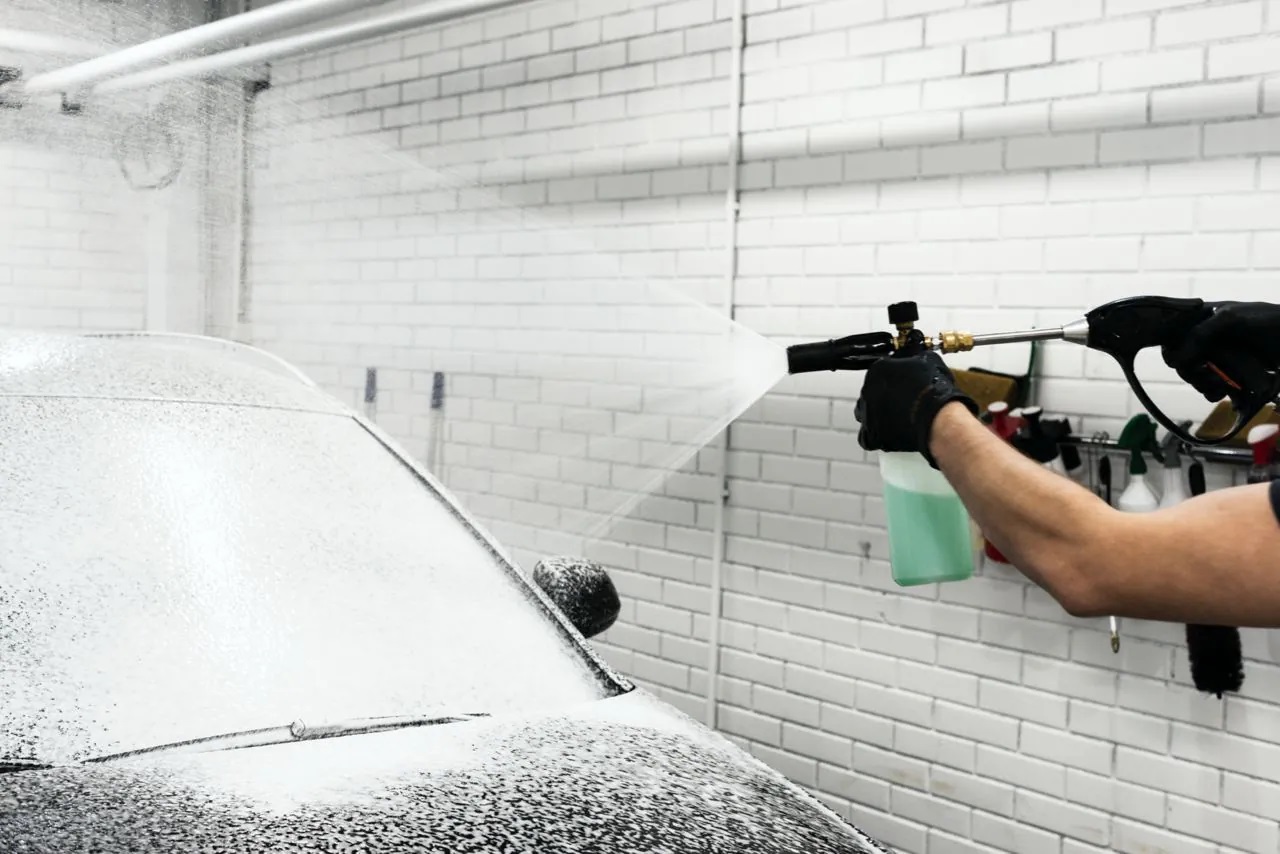 Fortunately, we understand the importance of these products and offer several high-quality vehicle coating solutions.
WHAT PROTECTIVE COATING PRODUCTS DO WE USE?
At Lexus South Pointe, we offer both AUTOTRIZ Vehicle Protection Ceramic Coatings and SunTek Paint Protection Film.
AUTOTRIZ VEHICLE PROTECTION CERAMIC COATINGS
AUTOTRIZ is the most advanced car protection system available on the global market today. AUTOTRIZ is designed to permanently protect your vehicle from the impacts of the environment and is far more effective than using just regular car wax or weekly washing.
We carry 4 AUTORIZ Ceramic Coatings: 3D Matrix Lite, PPF Coating, Plastic Coating, and the Booster.
1 - 3D MATRIX LITE
The 3D Matrix Lite is a one-step 7-year ceramic coating rated at 9H. That means that it has the ability to protect against a 9H pencil — the sharpest and hardest pencil in the world.
3D Matrix Lite goes on the paint of the vehicle and protects it from bird droppings, acid rain, light scratches, and keeps the paint as glossy as the day you bought it.
Unlike the majority of ceramic coatings — which use Silicon dioxide as a hardener — 3D Matrix Lite uses Polysilazane as a hardener. That means our coating is proven to be more durable, cohesive and stronger. Not to mention it has incredible hydrophobic properties.
2 - PPF COATING
Our PPF coating is used specifically for paint protection film. This coating helps protect from stains from bird droppings, sap, acid rain and other environmental issues.
3 - PLASTIC COATING
Our Plastic Coating is mainly used on the exterior of the car but can be used on the interior as well. For example, the Lexus RX and NX line-ups have a significant amount of plastic over the wheel arches. This coating protects it from fading and can even recondition old faded plastic— bringing it back to life.
4 - BOOSTER
Our Booster Protective Coating is similar to the Matrix Lite, but offers 1-2 years of protection instead of 7. It's perfect for someone who only plans on keeping the vehicle for no longer than 2 years and doesn't want to spend money every year.
It still offers the same protection as the Matrix Lite, it's just more cost-effective for the short-term owner.
SUNTEK PAINT PROTECTION FILM
SunTek Paint Protection Film Ultra is the industry leader in paint protection and works to maintain the beauty of your vehicle finish for years to come.
During the application process, we apply this top-performing film to the surface of your vehicle. It then acts as a barrier to protect against things like road debris, stains, water and other irritants.
In addition to protecting your vehicle against future damage, SunTek also has self-healing properties that can bring the shine of your vehicle back to life. So it looks as beautiful as the day you bought it.
WHY DO WE USE AUTOTRIZ AND SUNTEK PROTECT COATINGS?
At Lexus South Pointe, we have the best guests in Edmonton and that means they also deserve the best.
After months of research, discussions, testing and an in-depth look at the chemistry behind potential products, there was no denying it — AUTOTRIZ and SunTek are the best car paint and ceramic protective coatings on the market today.
If you want to do more research on AUTOTRIZ coatings and their effectiveness, watch their videos here.
If you want to do more research on SunTek coatings and their effectiveness, learn about them here.
PROTECT YOUR INVESTMENT
Purchasing a vehicle is a large investment. Especially when you choose a Lexus. While regular washing and cleaning can help it look and feel nice for a few months, it doesn't help protect the interior and exterior of your vehicle over time.
At Lexus South Pointe, we have established a premier auto detail team, outfitted with the best protective coatings available in Edmonton. Their extensive knowledge and years of experience work together to help our guests achieve long-term results.
We offer a variety of detail packages to fit your individual needs. Whether you need a full car interior cleaning, exterior refresh or a full-on paint correction, our team of detail professionals have you covered. To view our detail packages or book an appointment, click here.