WHAT IS A WHEEL ALIGNMENT (AND WHY DO I NEED ONE)?
WHAT IS A WHEEL ALIGNMENT (AND WHY DO I NEED ONE)?
Posted on May 19, 2023
It's not just potholes, off-roading or other seasonal conditions that will take a toll on your vehicle. Everyday driving can put your wheels out of alignment. Over time, this will cause your vehicle's suspension to take the brunt of the damage, ultimately impacting your fuel efficiency, reducing drivability and causing your tires to wear out faster.
Maintaining accurate alignment of your wheels to ensure their quality and performance remain optimal.
When it comes time for a wheel alignment, your local team of Certified Lexus Technicians will ensure your wheels perform smoothly and safely.
In this blog, we will explore what a wheel alignment is, when your vehicle might need one, what to look out for and ultimately, why they are so important.
WHAT IS A WHEEL ALIGNMENT?
When your wheels are out of alignment, the tires must be at the correct angles and pointing in different directions. This causes uneven tire wear, pulling or drifting your vehicle to the right or left.
A wheel alignment is a process of adjusting the angles of your vehicle's steering and suspension components back to their original specifications. It can also be called tracking or tire alignment.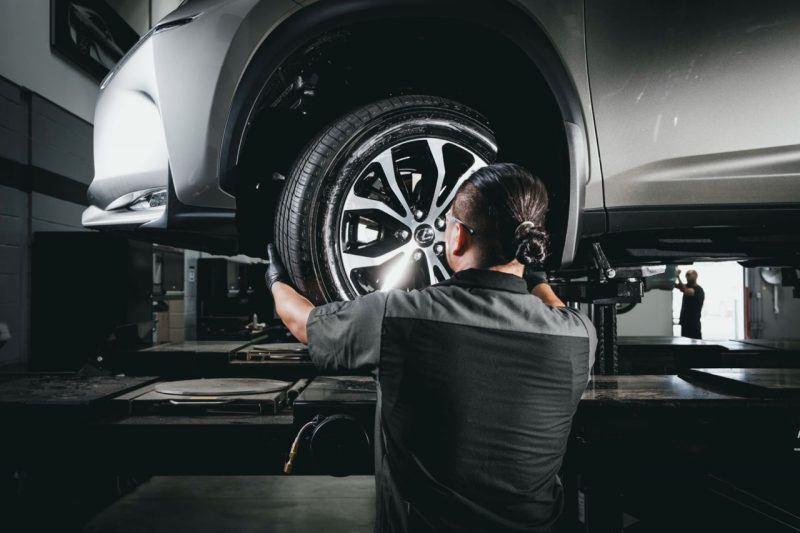 A wheel alignment aims to square a vehicle's wheels and axles with one another to move in the same direction. It's important to note that the type of alignment your vehicle needs is based on its suspension system and how it distributes power to its wheels. For instance, an all-wheel-drive or four-wheel-drive would require a different alignment than a front-wheel-drive or a rear-wheel-drive system.
WHEN DOES MY VEHICLE NEED A WHEEL ALIGNMENT?  
 Usually, the first sign a driver notices when wheel alignment goes crooked is when the steering pulls to either the right or the left. An easy way to test if your vehicle does have a steering pull is to drive on a smooth straight section of an empty parking lot. If the vehicle still pulls to one side, it's time to get things checked out.
Another red flag for needing a wheel alignment is uneven tire wear. This can be tested by cranking the steering wheel to view the front wheels' tread faces. If worn more on one side than the other, you could have an alignment problem.
Many shops recommend an alignment inspection based on the vehicle's age alone. However, it's recommended that your wheel alignment is checked at least every 10,000 km or any time you experience a change in the driving or handling of your vehicle.
Other reasons your vehicle might need a wheel alignment are when you get new tires when your vehicle is lowered or lifted, you've had a fender bender, a tire blowout occurred, or you've been affected by harsh road conditions.
If you are still determining if your vehicle needs a wheel alignment, our team of experts at Lexus South Pointe can help inspect and see if a wheel alignment would be recommended.


WHY DO YOU NEED A WHEEL ALIGNMENT?
Wheel alignment is one of the most critical maintenance tasks. If your wheels are misaligned, your vehicle will experience a dramatic drop in handling capability. There are three main reasons why wheel alignments are so important.
It's dangerous. Bad wheel alignment can lead to uneven or accelerated tire wear. This can compromise the tire's grip on the road, and endanger the driver and passengers, especially in slippery road conditions. In an extreme case, this could even lead to a blowout.
It will cost you more money. Accelerated wear also means you'll spend more money replacing your tires frequently. You'll also be spending more on fuel, as a misaligned vehicle will create scrubbing, causing resistance to the road.
Your drive won't be smooth. A misaligned wheel can cause vibration and jerky movements, making it an uncomfortable ride for you and your passengers.
When you have a proper wheel alignment, it optimizes driving, stability, and the life of your tires and improves your vehicle's overall handling performance.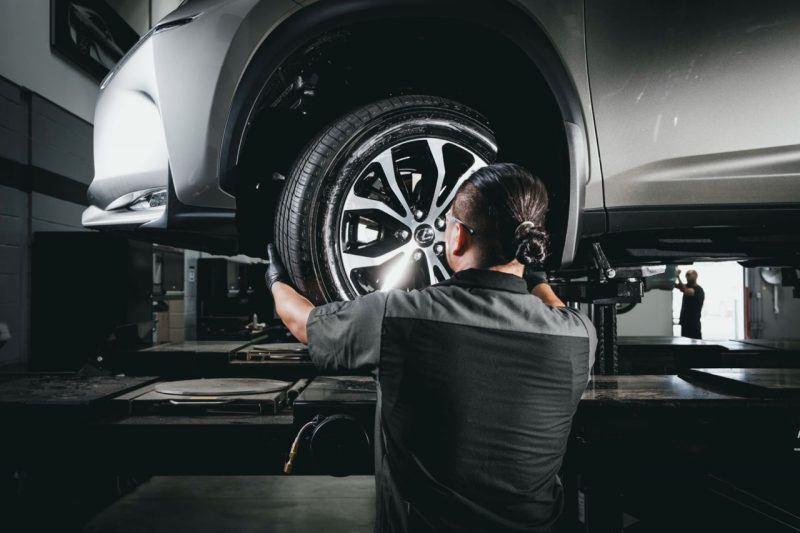 Overall, wheel alignment is essential maintenance that significantly impacts your vehicle's performance, fuel efficiency, safety, and lifespan.
BOOK A LEXUS SERVICE APPOINTMENT TODAY 
Lexus South Pointe is the premier luxury Lexus dealership in Edmonton. Our service centre has state-of-the-art equipment and a team of Lexus Certified Technicians who know every inch of your Lexus. If you have a question about your Lexus or need to book an appointment for regular maintenance, contact our team today.
We also offer our guests a complimentary in-house spa appointment with regular service. Please call ahead to confirm spa availability on the day of your appointment.
BROWSE OUR SERVICE SPECIALS