PROUD SPONSORS OF THE 2022 PACKWOOD GRAND
PROUD SPONSORS OF THE 2022 PACKWOOD GRAND
Posted on September 20, 2022
Lexus South Pointe is proud to once again sponsor the 2022 Packwood Grand at the Century Mile Racetrack in Edmonton. A true celebration of culture and entertainment, Packwood Grand showcases the best in fashion and elegance, food and beverage and horse racing.
Every year, this popular event brings together some of the best and brightest in Edmonton, including Lexus South Pointe guests. With some of our team in attendance, we wanted to showcase some of the reasons why we look forward to this event every year.
PROUD SPONSORS FOR 2022
We are proud to support events across Edmonton that provide an unparalleled experience that is both elevated and amazing. Because we have such a diverse client base, we love to get involved in different events year round so that everyone can find something that piques their interests.
Part of the ethos behind the Lexus brand is to provide an Amazing Experience for our guests at every turn. That includes the vehicles we sell to the various  services we provide our guests throughout our dealership. Being a Lexus owner comes with a certain level of prestige. Supporting events that embrace luxury as the Lexus brand does gives us an opportunity to further elevate the ownership experience.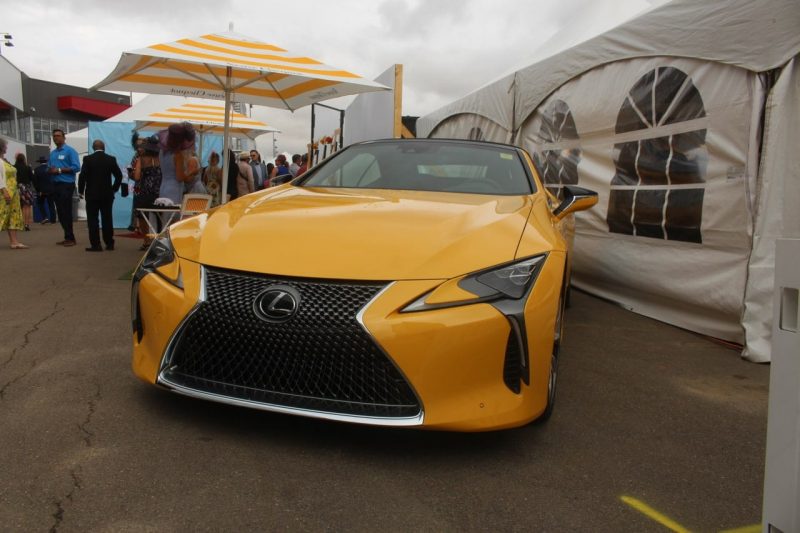 Packwood Grand was a natural sponsorship fit for our dealership. Catering to the best and brightest in Edmonton, many who appreciate high-end entertainment, this luxury event offers an incredible afternoon of horse racing, fashion, top-tier food and drinks and networking.
EXCLUSIVITY IS EVERYTHING AT THE PACKWOOD GRAND
Part of the Packwood Grand's allure is its exclusivity. Only a small amount of invitations are released each year to new guests. Returning guests receive priority entrance. Being a sponsor allows us to provide our guests with exclusive access.
ANOTHER SUCCESSFUL EVENT 
The day was an absolute success. From the great turnout to the incredible vendors — the afternoon was enjoyed by all including some of our own team who attended.
We had two Lexus models on display including the 2022 RX and 2022 IS. Both these vehicles showcase the best of the Lexus brand with top-tier design, performance and technology on display.
Fashion is everything at the derby, and the Packwood Grand is no exception. From bright colours, over-the-top accessories to high-level designers and more, everyone in attendance brought their best out for the afternoon.
While fun was the focus of the day there was definitely some competition in the air. The races were spirited and most attendees were keen to see the outcomes — and if they came out on top.
A menu of premium cocktails designed by their executive mixologist were on display. There was also a selection of premium wine, champagne, beer and spirits for purchase.
Following us on social media comes with a few rewards. We want to congratulate our winner Subah Kapoor who won our giveaway and was able to attend the afternoon. We hope you have a fantastic time.
THANK YOU TO EVERYONE WHO ATTENDED
Thank you to everyone who attended the Packwood Grand this year. We are always impressed by this event! If you have photos or videos from the event this year, please tag our Instagram account as we would love to re-share and include your images in our social feeds.