KNOW YOUR CAR NIGHT 2023
Posted on March 8, 2023
Know Your Car Night is always a fantastic opportunity for our service team to get to know our clients better.
We invite guests who have either been regularly servicing their Lexus with us for years as well as those new to our dealership to spend the evening with us.
Our technicians walk you through some of the basics of Lexus maintenance and the process behind many of the services your vehicle receives throughout the year. Then we leave time for our guests to ask any questions they might have about their vehicle.
At the end of the evening, our mission is accomplished when we have learned something new about you and you leave feeling empowered with fresh knowledge about your Lexus.
Know Your Car Night Event
This event was a huge success thanks to our guests who joined in and packed our service centre. We saw a lot of familiar faces who have trusted us throughout the years to care for their vehicle. We also met many of you who recently started servicing with us. It was a pleasure getting some face-to-face time with all of you.
In addition to some delicious finger food, we also had a bar set up for our guests to sip on water, coffee or prosecco and unwind for the evening. We also hosted several tours for those new to the dealership.
This is especially important so guests know where to find the spa for their complimentary manicure or pedicure during their appointment as well as the relaxing leather massage chairs and our virtual golf simulator.
Want To Know About Future Events?
Thank you to everyone who came out last week. The support we receive from the community and our clients on an ongoing basis is always so appreciated and we hope everyone had a great time.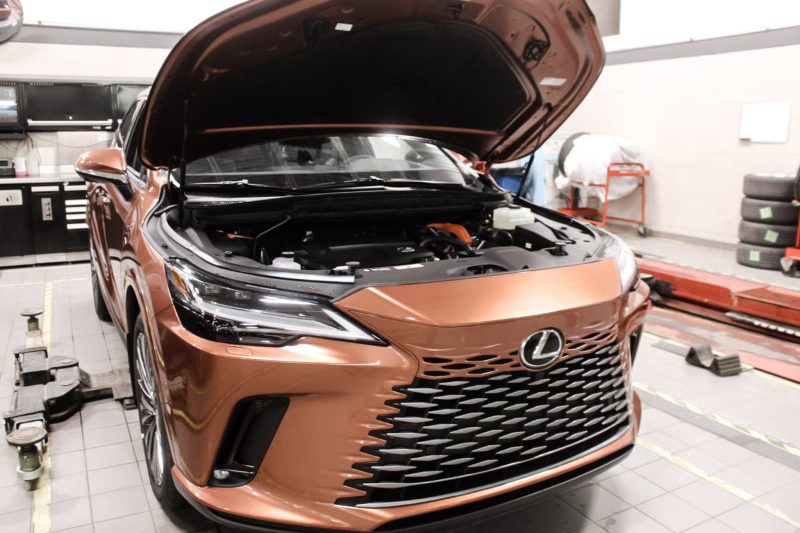 One of the many perks of being a Lexus owner is access to exclusive events within Edmonton hosted by our team at Lexus South Pointe. In addition to events like these that educate our guests on our vehicles, we also host things like movie premiers, concerts, golf tournaments, and more.
If you are interested in purchasing a Lexus or are already an existing client and want to be the first to know about events like Know Your Car night, contact our team directly today. We also recommend staying plugged into our social media channels where we are always releasing news and dates about upcoming events.
Want to see more photos from this event? Click here.