5 REASONS WHY THE 2023 RX 350 IS OUR FAVOURITE LEXUS MODEL
5 REASONS WHY THE 2023 RX 350 IS OUR FAVOURITE LEXUS MODEL
Posted on May 19, 2023
Here at Lexus South Pointe, we have fallen in love with the new 2023 RX 350. This Canadian-made SUV is sleek and sophisticated but still perfect for a growing family. With a driver focus interior and thoughtful exterior design, you'll look at luxury in a whole new way.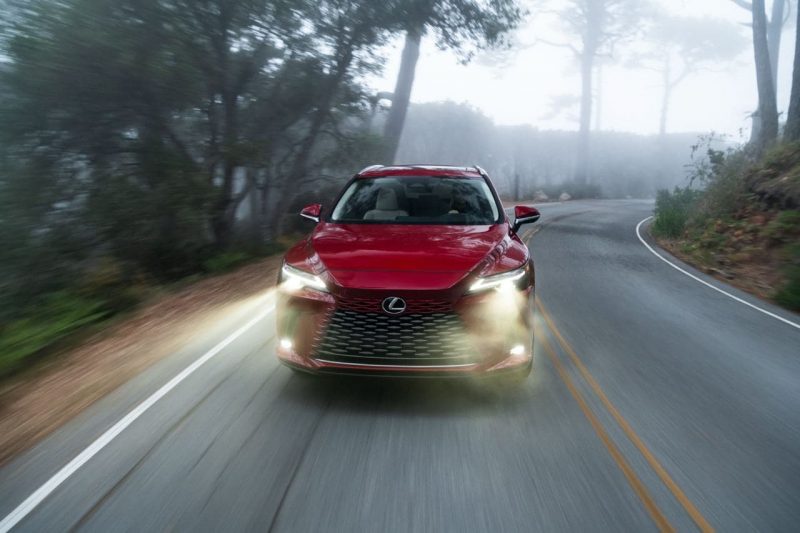 In this blog, we want to share five reasons why the 2023 RX 230 has become our favourite Lexus model.
#1 – 2023 RX 350: Lexus Safety System+ 3.0 
You'll have peace of mind when driving the 2023 RX 350, as it features Lexus' most advanced safety technology, including Lexus Safety System+ 3.0. From a Pre-Collision System with intersection support technology to technology that can slow the vehicle when it detects a pedestrian in its path.
The Safety System+ 3.0 is the most comprehensive active system ever included as standard in a Lexus, including:
Pre-Collision Safety System with Vehicle and Cyclist Detection and Night-Time Pedestrian Detection
Lane Change Assist
Automatic High Beams
Emergency Driving Stop System
Deceleration Assist
Lane Departure Alert with Steering Assist
Full-Speed Range Adaptive Cruise Control (ACC) with Curve Speed Management
Front-to-Front Oncoming Vehicle Detection
Lane Trace Assist
Acceleration Pedal Suspension
Red Light & Wrong Way Notification
#2 – 2023 RX 350: The Power Performance Abilities 
The RX 350 comes equipped with a turbocharged 2.4-litre four-cylinder engine that produces 275 horsepower and 317 pound-feet of torque. Allowing you to get from 0 to 60 in no time.
The Electronically Controlled Full-Time All-Wheel Drive (AWD) can distribute torque between the front and rear wheels efficiently, and the responsive steering will leave you in complete control of the road.
It also offers sufficient power for climbing hills and passing vehicles on the highway, and the transmission delivers quick and seamless gear changes.
#3 – 2023 RX 350: Connective Technology and Interface Multimedia System
The 14" touchscreen in the 2023 RX 350, is a feature we can't ignore. Thanks to the new highly intuitive Lexus Interface multimedia system, you have a suite of connected features at your fingertips.
Through Cloud Navigation (powered by Google Points-of-Interest data), real-time traffic and map updates are integrated with Intelligent Assistant voice commands. You'll also be able to use the Intelligent Assistant to control various features, such as dictating a message, checking the weather, or finding your next bite to eat!
Even better, through personalized user profiles, you can save your radio favourites, language, map settings, and seat positions under each profile. Even more remarkable, when stored in the cloud, they can go from vehicle to vehicle!
The RX 350 receives a complimentary up to 10-year trial for Safety Connect and Service Connect for ultimate peace of mind. In addition, using the Lexus App, Remote Connect35 (3-year trial) allows you to control certain vehicle features from a distance.
#4 – 2023 RX 350: Luxurious and Comfortable Interior 
If you want a luxurious, driver-focused interior, look no further. From the laser-cut wood to the 3D embossed materials, the functional and inviting features of the RX 350 create a premium driving experience.
The Tazuna Cockpit was designed to connect directly between driver and vehicle. Also, the available multi-coloured illumination feature gives the driver 64 options of interior colours.
As the driver, you'll be comfortable in any season with options for both heated and ventilated leather front seats.
When it comes to space and storage, there's room to grow. There's ample space for all your items and a deep center storage bay between the front two seats and behind the gear selector. But, most importantly, your passengers will feel comfortable in your care with two spacious rows for up to five people.
#5 – 2023 RX 350: Sporty and Sophisticated Exterior Design 
Last but certainly not least, the thoughtful design of the RX 350 adds to its dynamic handling and supple ride. A precisely honed character line runs from front to rear, creating an arrow-like profile with a flowing roofline to minimize drag, reduce noise, and stabilize at high speeds.
The bold seamless spindle grille and LED headlights create a seamless sporty look on the road with a sophisticated feel. Available in a series of inspired colours, including Nori Green Pearl and Nightfall Mica, for the perfect finishing touch.
Want To Test Drive The 2023 RX 350? 
These are just a few reasons why the RX 350 is one of our favourite Lexus models. It has so much to offer our guests in addition to being a stylish and sleek modern SUV.
Our knowledgeable product advisors would be happy to assist you, whether that be by booking a test drive, answering questions, or discussing your financing or leasing options.
You can shop our inventory online or contact us today at 780-989-2222 to discuss trim and package options so you can outfit the right RX for your lifestyle with every feature you want.