1932 Open VIP PGA Night with Guests
Blog
Aug 13rd, 2019
On Friday, August 2nd Lexus South Pointed hosted the 1932bybatemen Open VIP Night. The evening was an opportunity for our VIP guests, sponsors, and the PGA Pros to wine, dine, and enjoy an evening of luxurious camaraderie.
There was a selection of local vendors including Effing Seafoods, Joy of Wine, Blindman Brewing, and others. The food and cocktails were absolutely to-die-for, and the energy in the room was just what we had hoped for. Thanks to our sponsors, vendors, staff and especially to our guests for making this a night we won't soon forget!
Our Amazing Vendors
Effing Seafoods is a fresh Canadian seafood delivery chain right here in Edmonton. They deal in the freshest seafood including fish, oysters, prawns, and more. They're tireless in their commitment to bringing Edmontonians the best quality seafood in the country. And trust us, if you were lucky enough to sample their oysters this evening, you would agree.
Parker and Robby brought five different types of oysters for our VIP guests to enjoy. In addition to shucking oysters like pros, these two were a riot to chat with. Their sauces are all made in-house and complimented the oysters perfectly. We highly recommend checking these guys out.
Machuca brought their famous rum straight from the Dominican Republic. The owner, Matt, sampled two versions of the tasty liquor — one sweet and the other sour. Joel and his wife have an incredible story to share about the history of their company and their hopes for the future. Not only did we enjoy having some cocktails with these two, but we also loved hearing about their passion for the brand.
If there is one beverage that is central to a VIP night it has to be the classic Old Fashioned. So, we had the team from Glenmorangie set up shop and deliver some of the tastiest cocktails in the building. They were on point: Smooth finish, smokey flavours, and two thumbs up from us.
If you're not already familiar with this local Alberta brewery, now is the time to brush up! Blindman Brewing is located in Lacombe, Alberta and offers some of the most flavourful craft beers in the game. They use high quality and local ingredients and support the communities with which they partner.
Eldin was the man-on-site and he brought a wide selection of ales, lagers, and porters for our guests to try. The feedback was absolutely tremendous — thanks for the support, guys!
Lexus SkyCafe
Our very own Mike was there with an incredible display of fresh sushi and fish. If you've been at any of our other events, you've likely tried Mike's creations. Not only does he deliver an exceptional product but the artwork in his presentation is utterly masterful. He even brought out the cooking torch to give some of the sushi a crispy finish. Mike features sushi once a week in the SkyCafe. Just follow the giant staircase up and to your right.
Joy of Wine is owned by Marcia J. Hamm. Marcia is one of only 13 VIA Italian Wine Experts in Canada. She brought a little something for everyone to enjoy. A perfect compliment to the evening and a 10/10 recommendation from us. If you're interested in booking a wine tasting or consult with Joy of Wine, check out their Facebook page!
Our Amazing VIP Guests
As it can always be said, these types of events aren't possible without the support of our guests. We had dozens of friendly faces, long-time clients and new guests stop by and it was fantastic to watch everyone enjoy themselves. There even ending up being a wild rainstorm outside for part of the evening, but that seemed to only fire up the energy inside.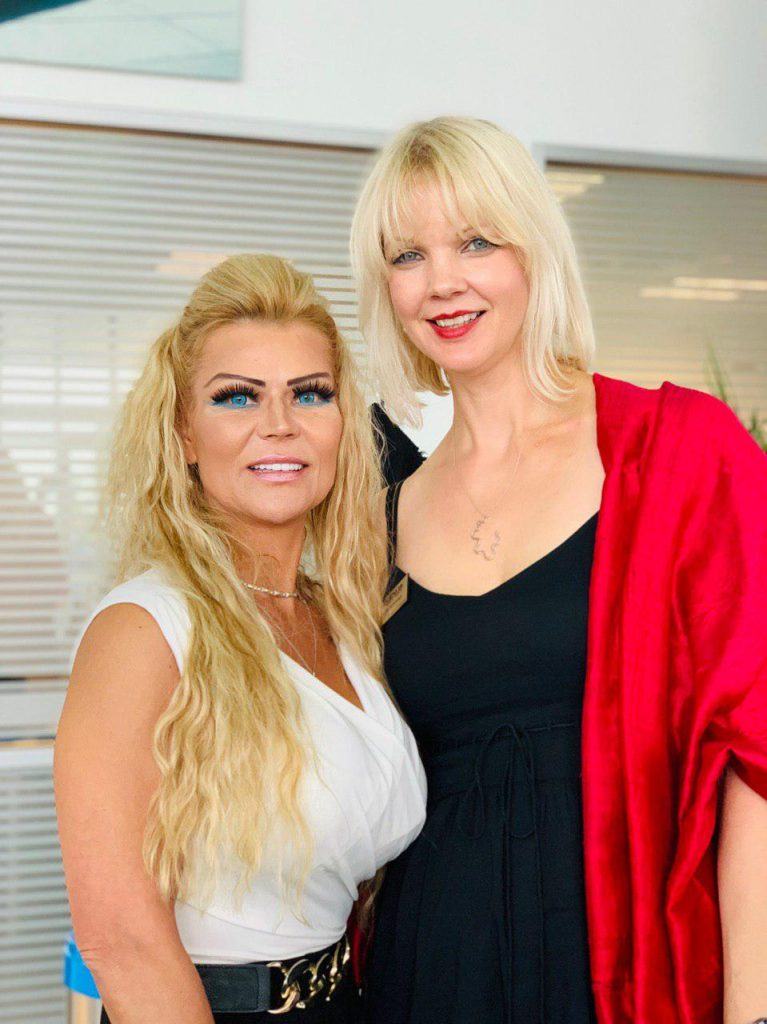 Follow us on Facebook, Instagram and Twitter for details about upcoming events just like this one!